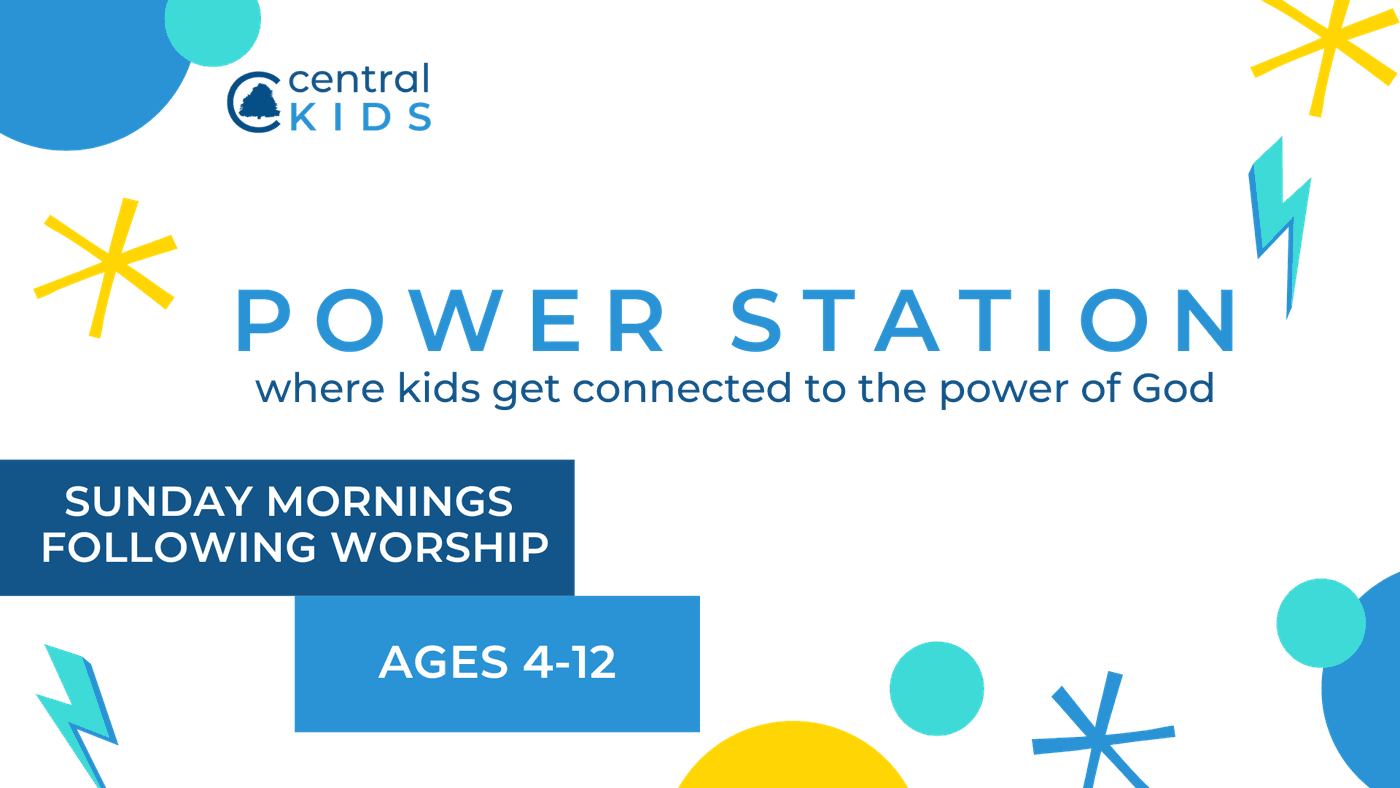 At Central, kids (ages 4 - 12) experience safe, age-appropriate environments where they learn about Jesus in a creative and relevant way.
Power Station happens on Sunday morning during our 10 AM worship service.
We would love to see you and your family visit Power Station.
Note: We currently do not offer nursery or preschool, however there is a nursery room available for parents to take their children to if needed.
Your First Visit
Here's what to expect when visiting Power Station for the first time:
Before heading to the Connection Center visit the check-in station in the lobby to check your child into our system. Then one of our volunteers will show you where your child's room is located.
Upon checking in for the first time, you will need to fill out a Student Registration Form for your child/children. We will ask for the following personal information (NOTE: We value your privacy and will not share this information with anyone):
Parent/guardian name(s)
Home address
Phone number
Child's name
Child's birthdate
Child's school/grade
Any special instructions (allergies, special needs) for your children
At the beginning of every school year (by September 1) we ask that this form be updated to stay current with your child's information.
How Check-In Works
Every child must be checked in by a parent or guardian and picked up by a parent or guardian.
Before Service: You can check-in your child at our check-in station in the lobby. After finding your child's name in the database, you and your child will be given matching name tags that are exclusive to your family and your visit. Your child will need to wear the name tag portion while you hold on to the matching tag.
During Service: In the event that we need to contact you during the service, your child's identification code will appear on the screen. We ask that you exit the sanctuary immediately and proceed to your child's room.
After Service: After the service is complete, you will return to your child's room and show your tag in order for your child to be released back to you.
Devotions
Central kids will have a blast with a devotional designed just for them!